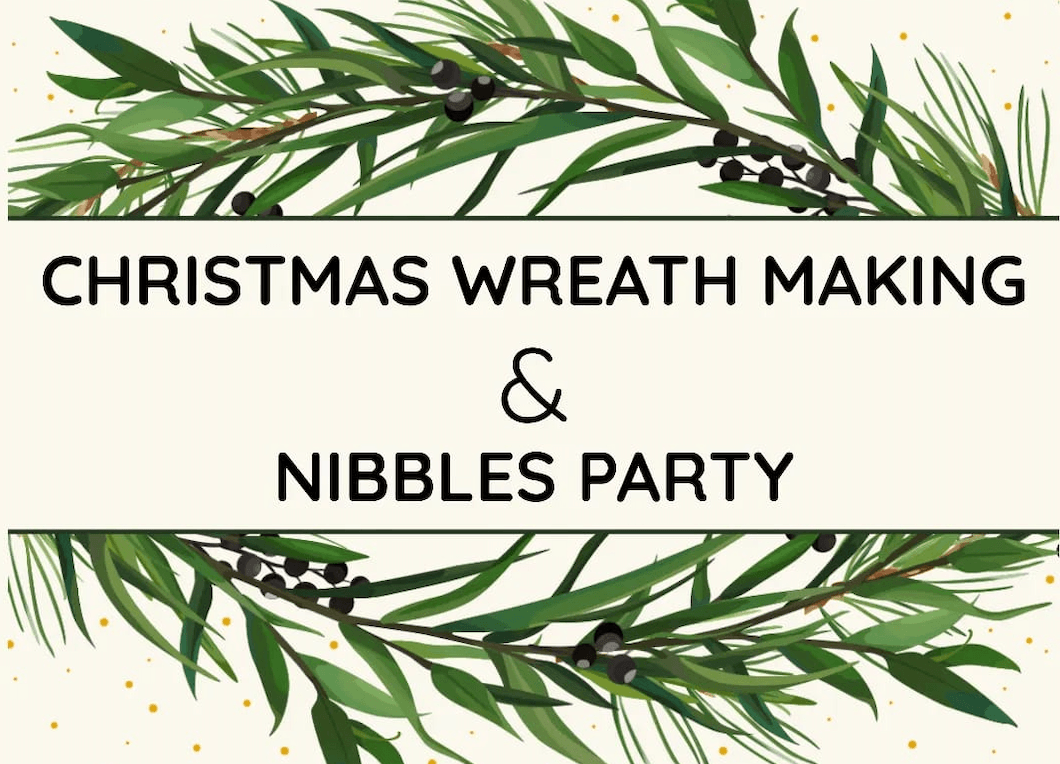 Christmas Wreath Making 
and Nibbles Party
Friday November 26th from 19.30 -22  
A Friends of Clapham Common event in partnership with Flheur and Common.
Venue: Common, 17 The Pavement Clapham, SW4 0HY Ticket price, £95, covers all materials for Christmas wreath making, 2 alcoholic drinks & nibbles.
Proceeds will go towards Friends of Clapham Common projects.
For info email friends@claphamcommon.net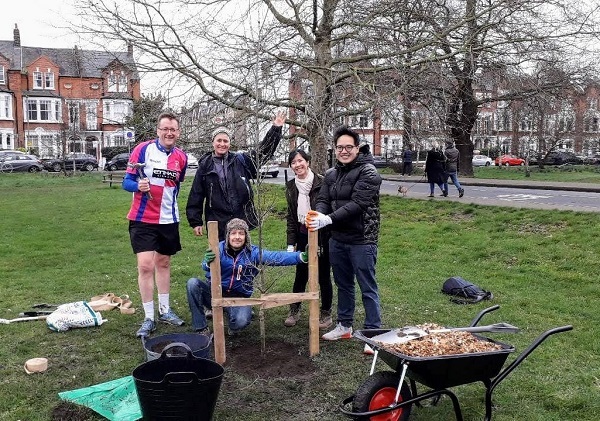 Planting sessions 
this November 
Saturday November 20th and 27th  
we will provide tools and bulb, bring your gloves if you have it.
Text 07789870809 if you are free to help.
Meet at the Bandstand at 10am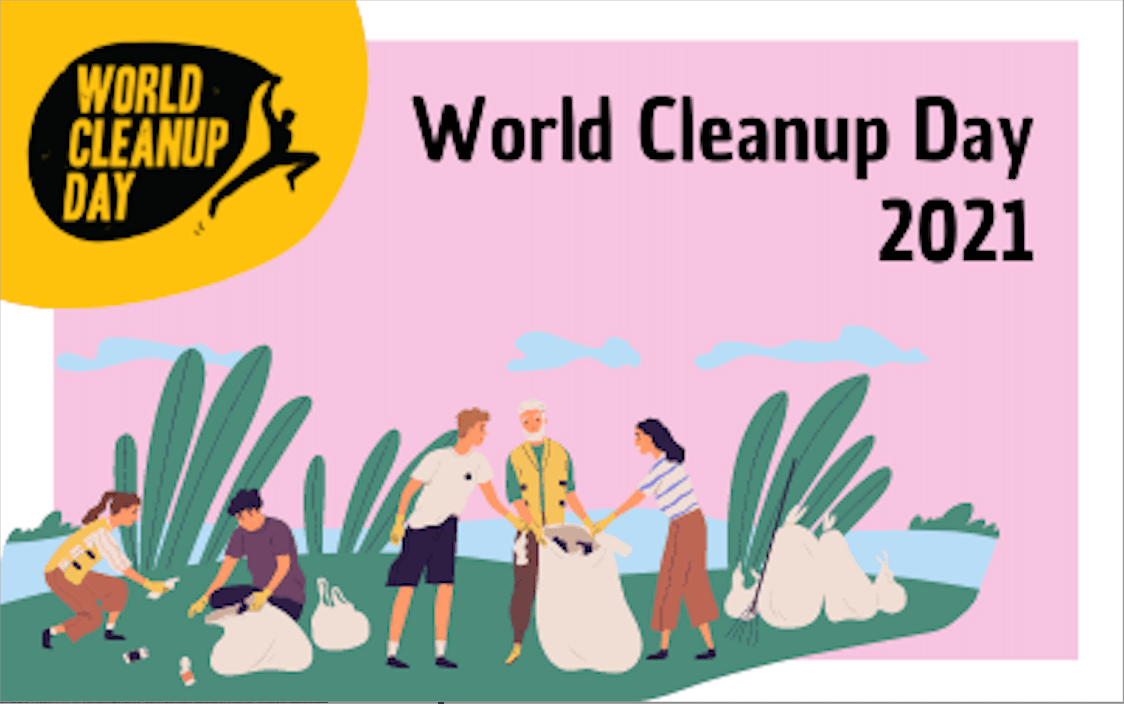 Community Litter Pick –
World Cleanup Day 2021
Saturday September 18th from 10am to 12noon join our Community Litter Pick for the World Cleanup Day.
Come and join us! Meet at the bandstand anytime during the morning. Wear gloves, enclosed shoes and be there!
If you are planning to come please read our guidance. Text 07789870809 or email friends@claphamcommon.net if you can come.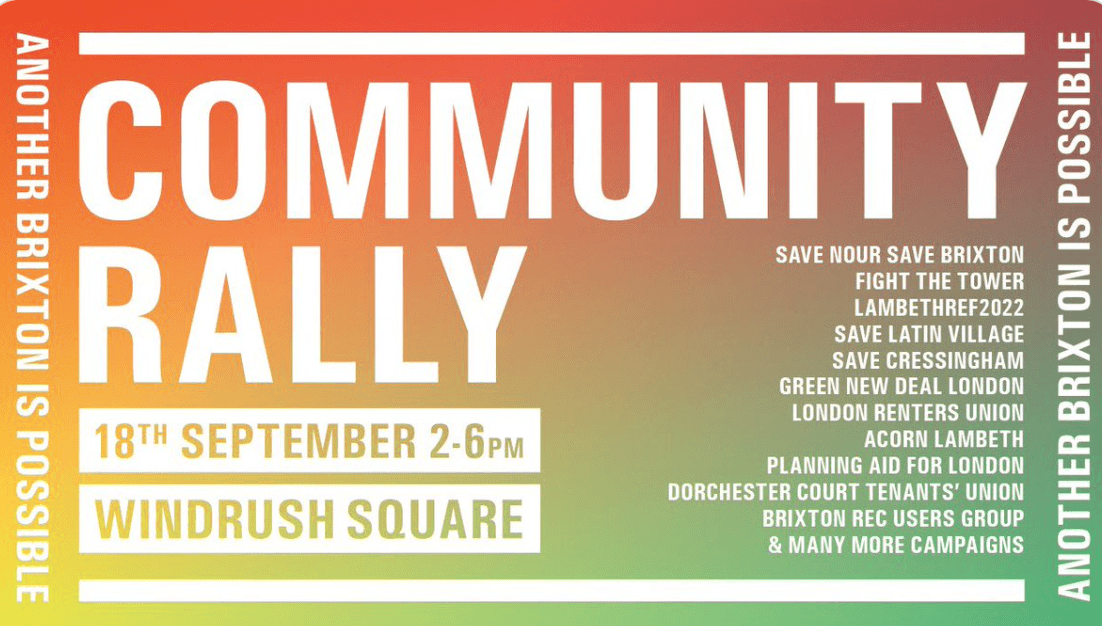 Community Rally – Windrush Sq
Saturday September 18th from 2 to 6 pm
Another Brixton is possible – one where communities, not developers, get to decide the future of the neighbourhood. Join to learn more about how we can make this vision a reality! Meet at Windrush Square.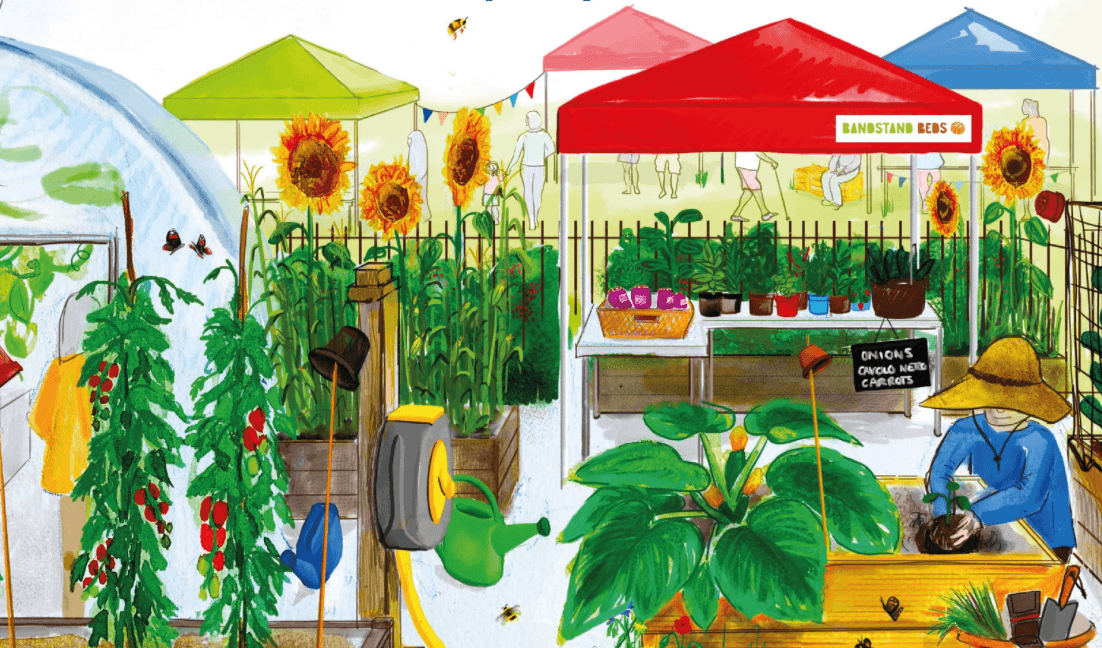 Bandstand Beds Feast & Car Free Celebration
Saturday September 25th from 12 noon to 5 pm
Meet at the Bandstand Beds for delicious food, wildlife workshop and fun-filled activities. Everyone welcome! 
For more info visit bandstandbeds.org.uk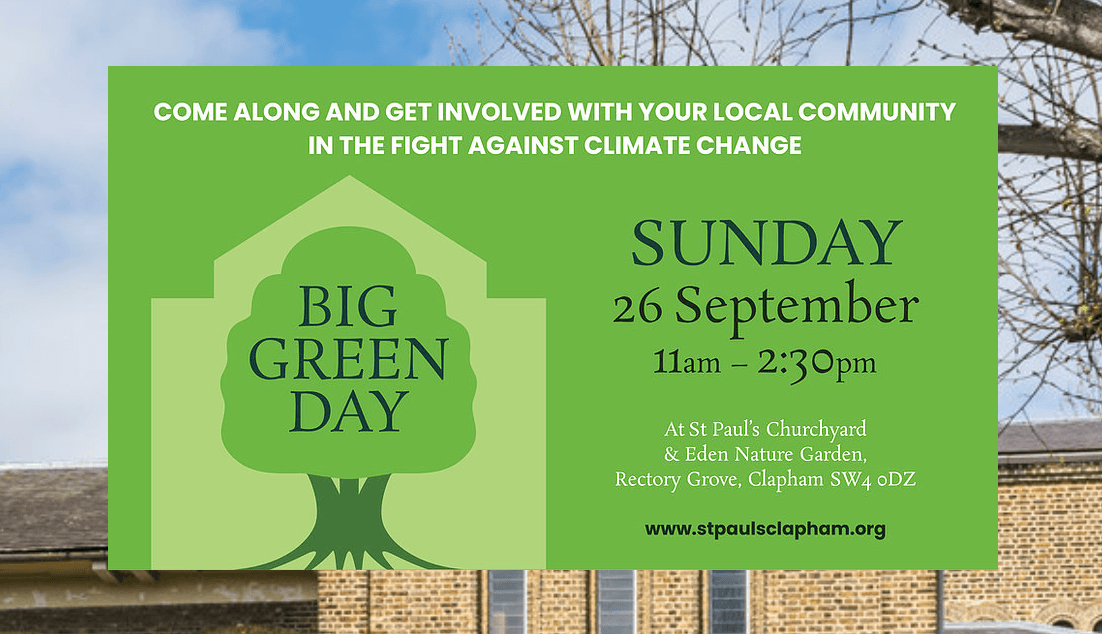 Sunday September 26th from 11 noon to 2.30 pm
Meet at the St. Pauls Church Yard to engage with the local community and encourage local action on climate change. 
There will be a compost workshop, a make-your-own tote bag demo and a clothes mend-and-repair stall where you can bring in items that need a bit of TLC.
The event is also part of the national Great Big Green Week (18th – 26th September).

For more info visit stpaulsclapham.org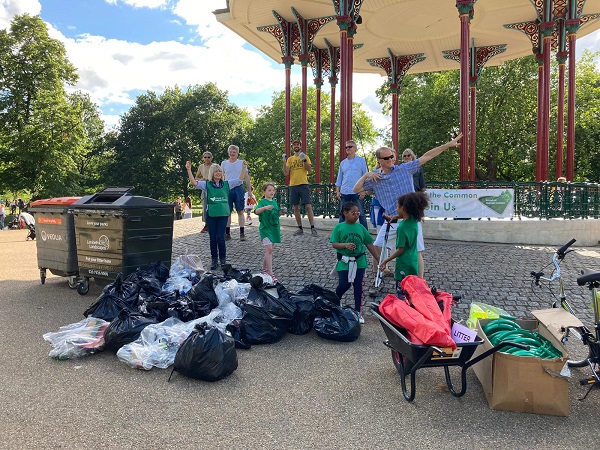 Sunday August 8th from 9am to 12noon join our Community Litter Pick.
Come and join us! Meet at the bandstand anytime during the morning. Wear gloves and be there, we'll do the rest.
If you are planning to come please read our guidance. Text 07789870809 or email friends@claphamcommon.net if you can come.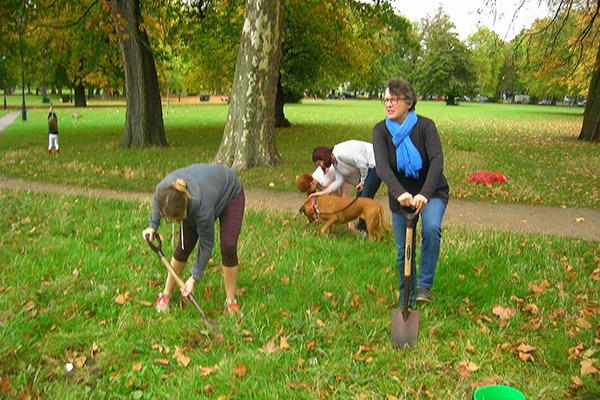 Saturday 15th May from 11am. We will be planting poppies and foxgloves. Text 07789870809 if you are free to help.
Meet at the Bandstand at 11am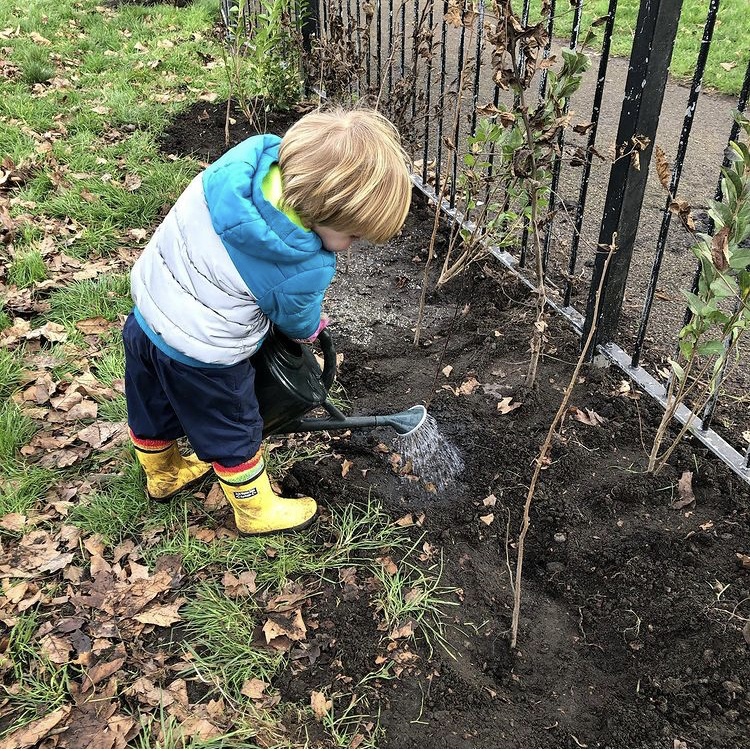 Watering Session – CANCELLED –
We'll reschedule a watering session in a couple of weeks as the weather gets drier and warmer – hopefully.
Saturday May 15th from 10.30am – 12.30noon, join us for a Watering session at the hedge around the little children's playground on Battersea Rise Side.
We'll be weeding too so bring a kneeler and wear gloves.
Children bring your watering cans!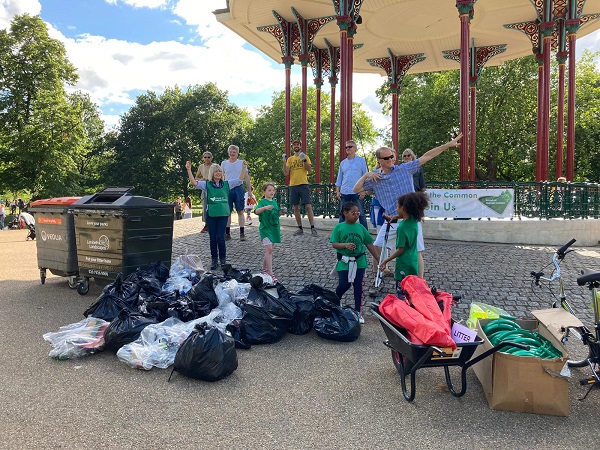 This Sunday May 9th from 1 to 3pm join our Community Litter Pick. Meet at the bandstand.
If you are planning to come please read our guidance. Text 07789870809 or email friends@claphamcommon.net if you can come. 
We are looking for volunteers to help feed the Common's small birds over the winter and while they are raising their young. We have installed some feeders, provided by Lambeh Council, and need help keeping them filled. If you're interested please email Paul Stephenson at stephensonpaul@icloud.com to find out more.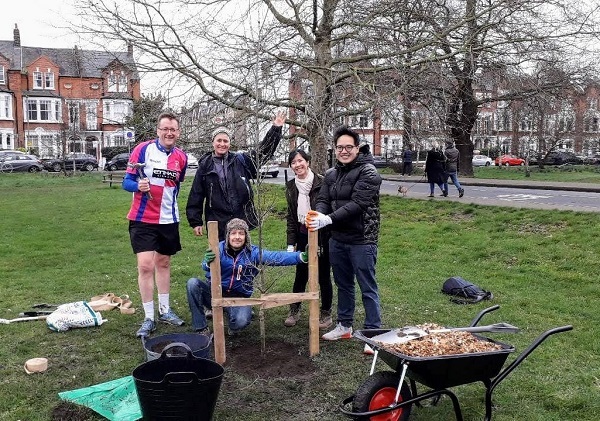 In cooperation with CCMAC, volunteers will dig and plant 12 trees on the West side. The date will be updated as soon as their delivery is confirmed. Everyone is welcome to come help or observe.
Read about the benefits of trees.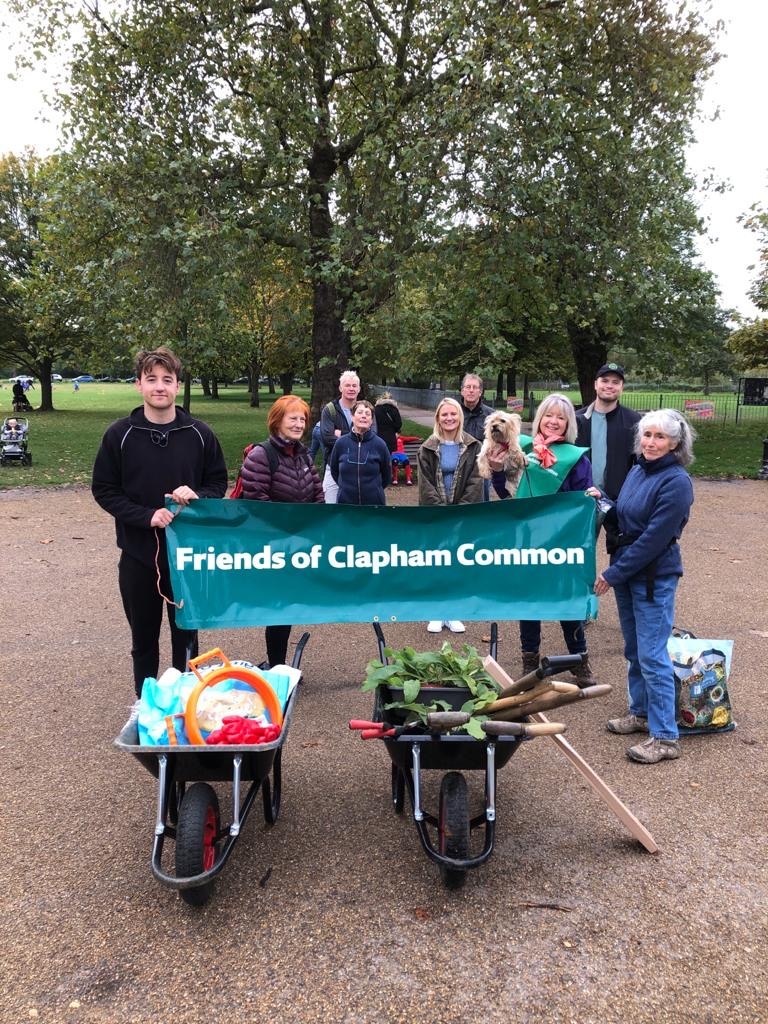 Saturdays from 10 October to 28 November 2020
As autumn drew on we got 2,500 bulbs in:
700 wild garlic – Allium Ursinum – Battersea Woods & Nightingale Lane
600 daffodils- Grandison Road & Nightingale Lane
500 snowdrops- Galanthus Elwesii – Northside
500 bluebells – Hyacinthoides Non Scripta – Nightingale Lane
100 wood anemones- Anemone Nemorosa – Nightingale Lane
100 snowdrops – Galanthus Elwesii – Nightingale Lane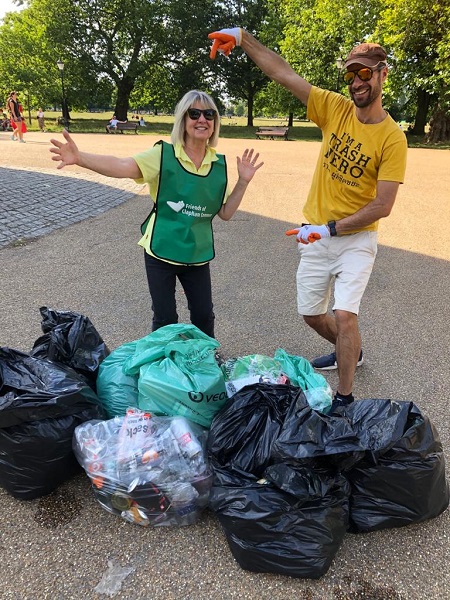 19 September 2020
The Friends of Clapham Common organised an almighty litter pick for is World Clean-up Day in conjunction with Friends of the Earth, Plogolution, Keep Britain Tidy and Trash Hero.
We would love it if you could all join us the next ones. More information on dates will follow but it would be great to meet up.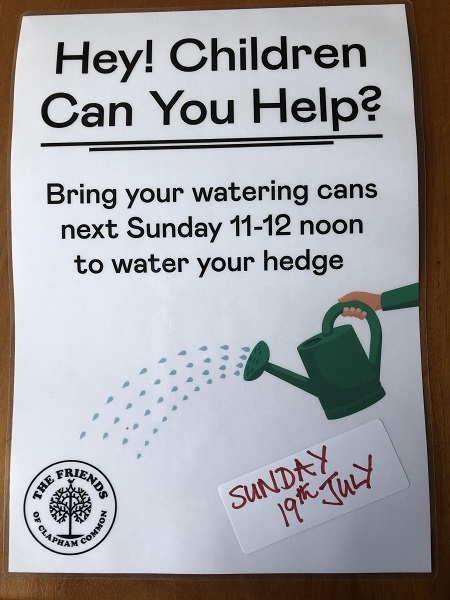 19 July 2020
Thank you, children, for watering the hedge inside the Battersea rise playground. It was planted in February and it's growing nicely.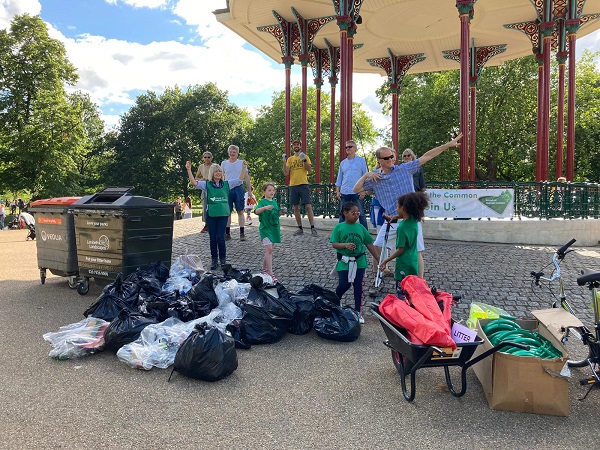 20 June and 12 July 2020
Lambeth Council has recently increased waste collection. However, the Common is under high pressure during these times, especially at weekends.
Great job, volunteers, to make the space tidier.
In participation with Trash Hero, an international movement of cleanups, and Veolia.

FCC Extraordinary General Meeting
27 March 2020
Due to the COVID-19 lockdown, FCC had to cancel its AGM on 25 March 2020. A virtual EGM was held in order to allow the members to vote on 2 motions (Election of new committee, Change of 'Objects' clause in constitution). An AGM will be held later in the year, when the financials and review of activities will be presented.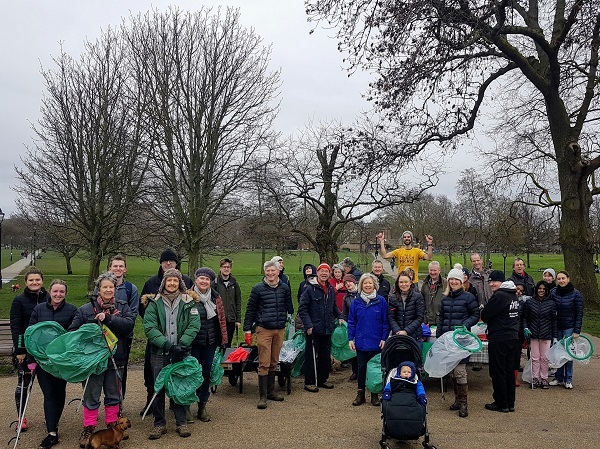 7 March 2020
The Common is cleaner of 81kg of litter (58kg general rubbish and 23kg recycled)!
Trash Hero, an international movement of cleanups, would like to make Clapham Common their first project in the UK.
The Friends enthusiastically showed up and picked away to make the space a better place for all.
Thanks Veolia for providing reacher grabbers, hoops, gloves, bags as well as tips on recycling.
15 February 2020
Big big thanks to all the wonderful volunteers who turned up, despite the stormy weather forecast, to plant 25 oak trees (18 English, 5 sessile, 2 pin) on Clapham Common West side. Great digging, watering, back-filling, staking, mulching.
Thanks also to Lambeth officers for their support and for providing so much equipment.
"The true meaning of life is to plant trees, under whose shade you do not expect to sit." Nelson Henderson
Read about the benefits of trees.
Planting hedges around playground
8 February 2020
Thanks to all the enthusiastic volunteers for planting 230 whips and shrubs around the front of the playground in Battersea rise.
Mint tea and homemade flapjacks were a great reward for the hard work.
A good mix of evergreen and deciduous plants (privet, hornbeam, field maple, guelder rose, cherry plum, crab apple and viburnum) will form a full and beautiful hedge in a couple of years.
It will improve the air quality of the area for our children, cleaning some pollution from the car traffic.
Together we can do great things!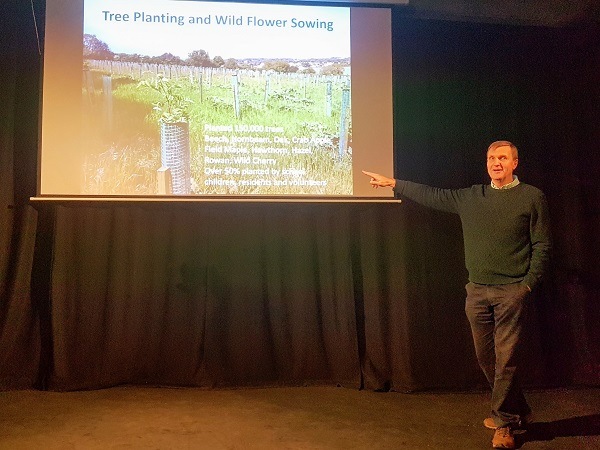 Free talk: "Planting Our Way Out of Extinction"
15 January 2020
Location: Omnibus theatre
Martin Boiling, of the Woodland Trust (UK's largest woodland conservation charity), presented on how and where the UK can plant 1.5 billion trees needed to reach net zero emissions by 2050, and that time has come for difficult decisions for our society. Currently, the percentage of forest area on UK land is 13%, much lower than in continental Europe.
He also talked about the creation scheme of Langley Vale Centenary Wood in Epsom.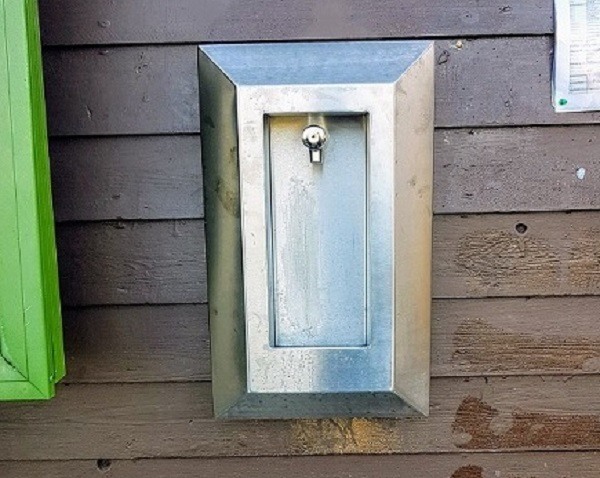 Bottle filling station installed
December 2019
Location: changing rooms by the football pitches, entrance from Clapham Common West side
Thank you to TK Maxx for covering most of the cost of the installation of a bottle filling station.
The objective is to reduce the amount of plastic bottles waste on the Common. It has a heating cable, so that it doesn't freeze in the winter.
It will be switched on once Lambeth council carries out the water quality control check.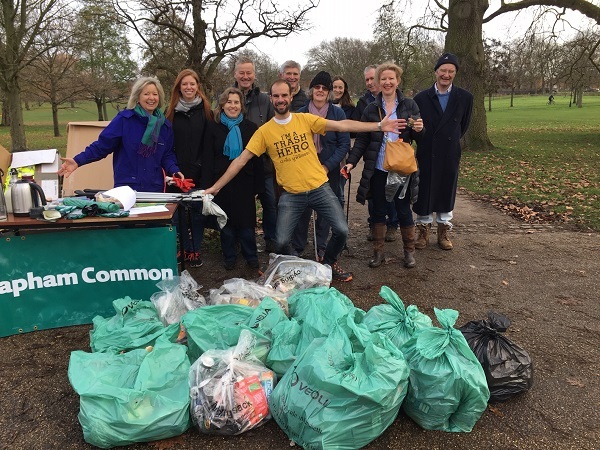 7 December 2019
Thank you to all those brave volunteers who came out in wintry weather to support the Friends' Christmas Clean Up on Clapham Common. We collected in excess of 50kg of rubbish! Good team work – everyone worked so hard – a really fantastic effort! Supported by Trash Hero and Veolia and rewarded with fresh coffee and mince pies!
Let's work together to improve our environment!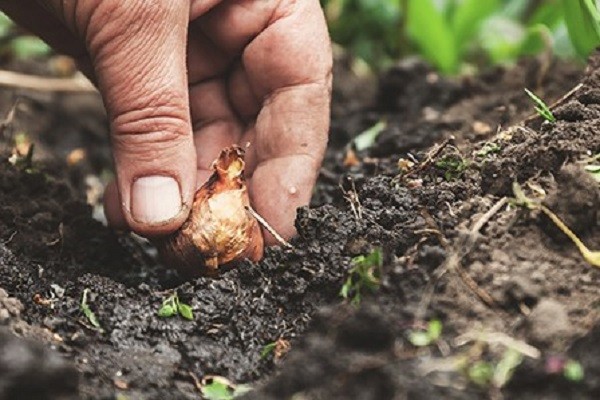 30 November 2019
Volunteers planted 200 bulbs of English bluebells, snowdrops, wood anemone, wild daffodils and fritillary, provided by Lambeth council.
Watch for flowers in spring by the paths around Nursery woods.
This was the 4th event in 2019, taking the number of bulbs planted in the year to 1,700. That's approximately 2,700 in the last couple of years!
Colour Your Common.
23-24 November 2019
150 whips of blackthorn, hawthorn, guelder rose and bird cherry were planted by 20 volunteers:
– 75 opposite the Bandstand, in front of the metal rail of the kids' area;
– 50 by Windmill drive, opposite Bandstand beds
– 25 by Battersea woods.
They were donated by the Mayor's of London and will become rare patches of shrub land for wildlife.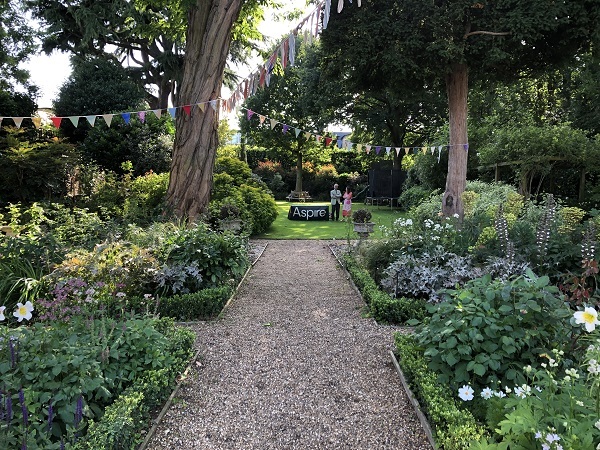 June 2019
The 2019 FCC Summer Party was attended by around 150 members, and hosted in a large, beautiful garden on West Side. Food was kindly cooked by FCC Committee chef, Maggie de Dominicis on a giant paella pan and jazz music was provided by The Graham Pike Quartet.
Thank you for your generous support of the raffle and silent auction. Thanks to this year's sponsor, Aspire estate agents, and all of the local retailers for their valued contribution.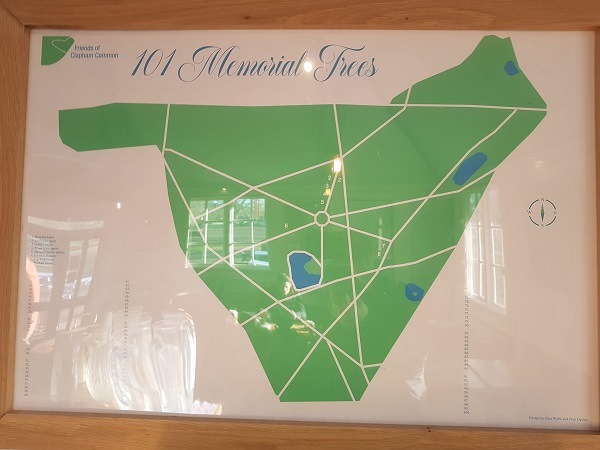 May 2019
FCC has an ongoing project to plant 101 memorial trees. These trees are paid for by people who wish to remember a loved one by way of a tree, and there is a map showing their locations in the cafe by the bandstand.
February 2019
We laid new turf in a large area by the Long pond, where the grass had died due to compacted soil and overflown water.
"Not all of us can do great things. But we can do small things with great love." Mother Teresa.
Protecting and Improving Clapham Common
© Friends of Clapham Common Registered Charity Number 1189142
Contact Us