FCC Annual General Meeting
Wednesday 25th March 2020 at 7pm
Omnibus theatre, 1 Clapham Common North Side, SW4 0QW.
Friends of Clapham Common are holding their Annual General Meeting.
All local residents and users of the Common are welcome to join us and hear about future plans to protect our treasured green and open space.
Arrive at 6.30pm for pre-meeting drinks and nibbles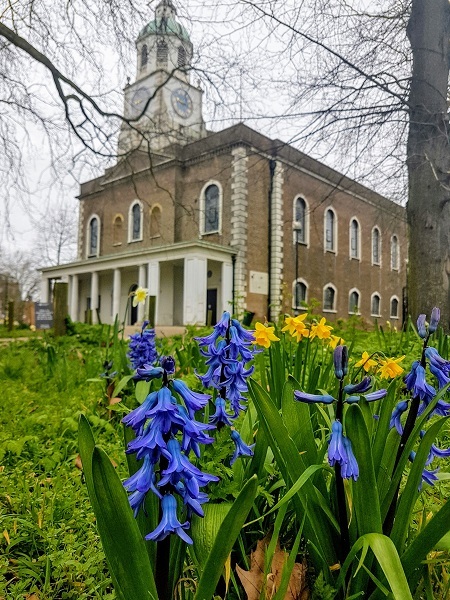 Snowdrops, daffodils and now bluebells have been spotted in bloom on the Common! This suggests that spring is not far away. We invite members to send us photos of this year's spring photos – please email them to friends@claphamcommon.org or post them as a comment on our Facebook page.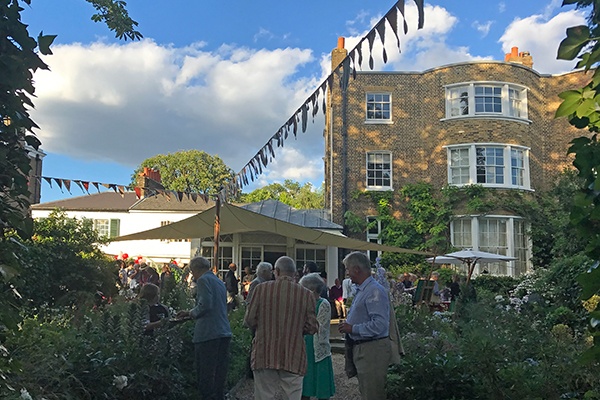 Summer Party 2nd July 2020 at 6pm
To be held once again in one of the most beautiful gardens in London, right here in Clapham. We'll start with drinks on the terrace at 6 pm, canapes and hot supper, with live jazz provided by The Graham Pike Quartet.
We'd love you to join us!
This year will be in conjunction with Clapham Society's annual party.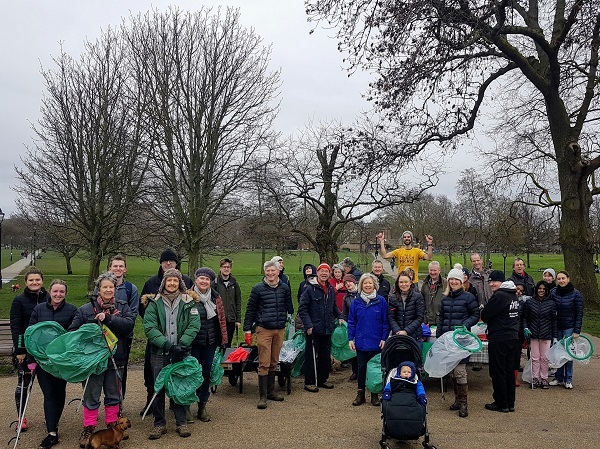 7 March 2020
The Common is cleaner of 81kg of litter (58kg general rubbish and 23kg recycled)!
Trash Hero, an international movement of cleanups, would like to make Clapham Common their first project in the UK.
The Friends enthusiastically showed up and picked away to make the space a better place for all.
Thanks Veolia for providing reacher grabbers, hoops, gloves, bags as well as tips on recycling.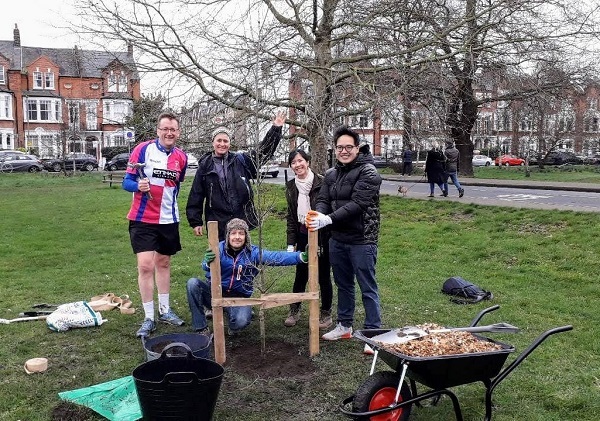 15 February 2020
Big big thanks to all the wonderful volunteers who turned up, despite the stormy weather forecast, to plant 25 oak trees (18 English, 5 sessile, 2 pin) on Clapham Common West side. Great digging, watering, back-filling, staking, mulching.
Thanks also to Lambeth officers for their support and for providing so much equipment.
"The true meaning of life is to plant trees, under whose shade you do not expect to sit." Nelson Henderson
Read about the benefits of trees.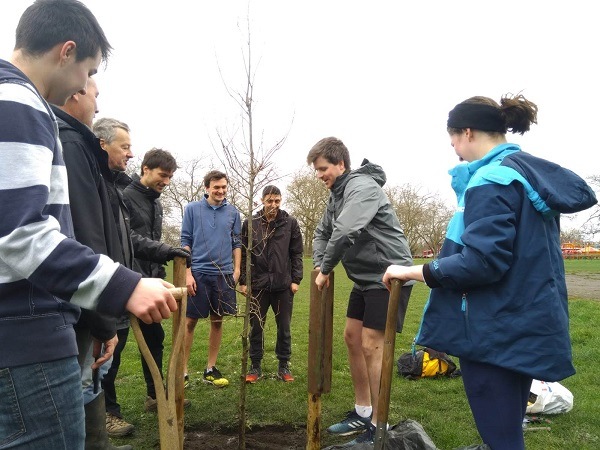 Planting hedges around playground
8 February 2020
Thanks to all the enthusiastic volunteers for planting 230 whips and shrubs around the front of the playground in Battersea rise.
Mint tea and homemade flapjacks were a great reward for the hard work.
A good mix of evergreen and deciduous plants (privet, hornbeam, field maple, guelder rose, cherry plum, crab apple and viburnum) will form a full and beautiful hedge in a couple of years.
It will improve the air quality of the area for our children, cleaning some pollution from the car traffic.
Together we can do great things!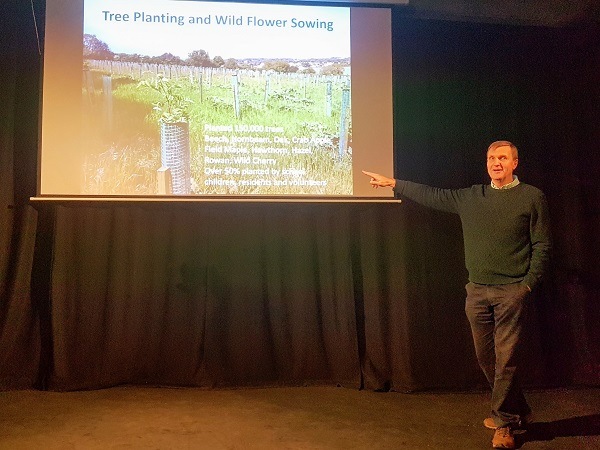 Free talk: "Planting Our Way Out of Extinction"
15 January 2020
Location: Omnibus theatre
Martin Boiling, of the Woodland Trust (UK's largest woodland conservation charity), presented on how and where the UK can plant 1.5 billion trees needed to reach net zero emissions by 2050, and that time has come for difficult decisions for our society. Currently, the percentage of forest area on UK land is 13%, much lower than in continental Europe.
He also talked about the creation scheme of Langley Vale Centenary Wood in Epsom.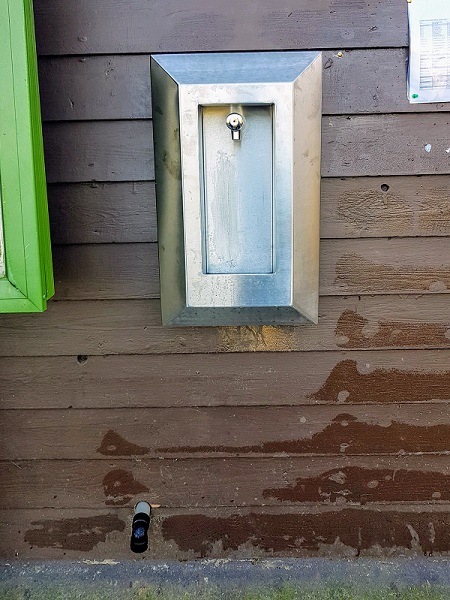 Bottle filling station installed
December 2019
Location: changing rooms by the football pitches, entrance from Clapham Common West side
Thank you to TK Maxx for covering most of the cost of the installation of a bottle filling station.
The objective is to reduce the amount of plastic bottles waste on the Common. It has a heating cable, so that it doesn't freeze in the winter.
It will be switched on once Lambeth council carries out the water quality control check.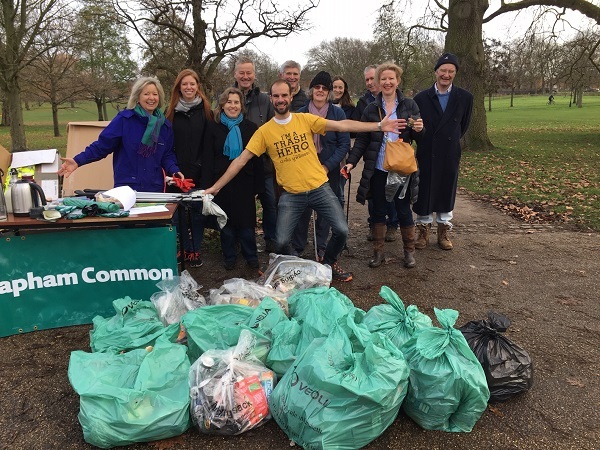 7 December 2019
Thank you to all those brave volunteers who came out in wintry weather to support the Friends' Christmas Clean Up on Clapham Common. We collected in excess of 50kg of rubbish! Good team work – everyone worked so hard – a really fantastic effort! Supported by Trash Hero and Veolia and rewarded with fresh coffee and mince pies!
Let's work together to improve our environment!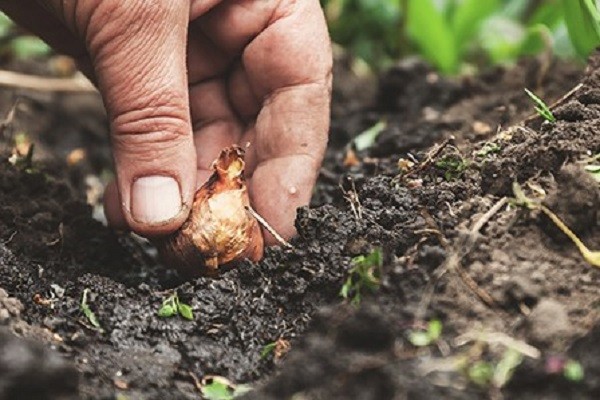 30 November 2019
Volunteers planted 200 bulbs of English bluebells, snowdrops, wood anemone, wild daffodils and fritillary, provided by Lambeth council.
Watch for flowers in spring by the paths around Nursery woods.
This was the 4th event in 2019, taking the number of bulbs planted in the year to 1,700. That's approximately 2,700 in the last couple of years!
Colour Your Common.
23-24 November 2019
150 whips of blackthorn, hawthorn, guelder rose and bird cherry were planted by 20 volunteers:
– 75 opposite the Bandstand, in front of the metal rail of the kids' area;
– 50 by Windmill drive, opposite Bandstand beds
– 25 by Battersea woods.
They were donated by the Mayor's of London and will become rare patches of shrub land for wildlife.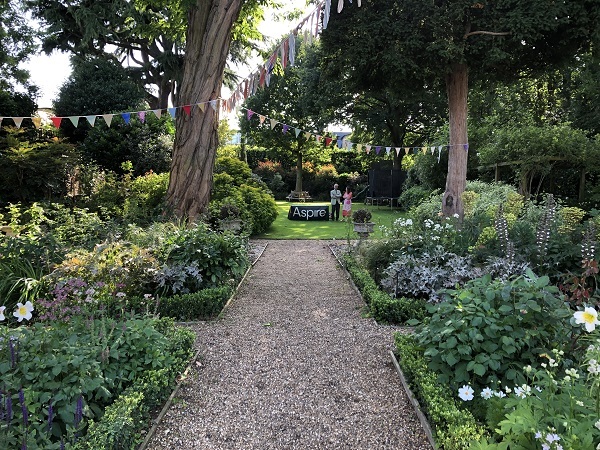 June 2019
The 2019 FCC Summer Party was attended by around 150 members, and hosted in a large, beautiful garden on West Side. Food was kindly cooked by FCC Committee chef, Maggie de Dominicis on a giant paella pan and jazz music was provided by The Graham Pike Quartet.
Thank you for your generous support of the raffle and silent auction. Thanks to this year's sponsor, Aspire estate agents, and all of the local retailers for their valued contribution.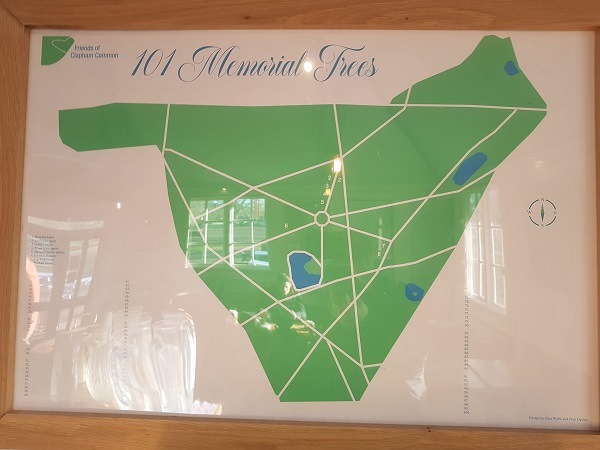 May 2019
FCC has an ongoing project to plant 101 memorial trees. These trees are paid for by people who wish to remember a loved one by way of a tree, and there is a map showing their locations in the cafe by the bandstand.
February 2019
We laid new turf in a large area by the Long pond, where the grass had died due to compacted soil and overflown water.
"Not all of us can do great things. But we can do small things with great love." Mother Teresa.